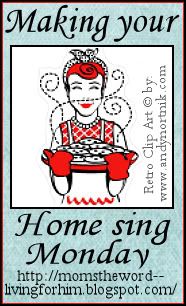 I have lots that I want to blog about and this morning none of it is coming to mind.

Instead, what keeps haunting me is an overall feeling of inadequacy. I feel like I can't get anything done and keep it done.

The Never Ending To Do List

-Floors to sweep and mop.

-Books to order for our homeschool.

-A lesson to teach for tomorrow's co-op class.
(not to mention, get my own son ready for it)

-Checkbook to be balanced
(how much money did we spend this weekend?)

The list could go on and on............

The problem is I just feel inadequate to get it all done. Instead, I'd rather sit on the couch and have a pity party. Anyone want to join me?

Then this morning in my quiet time, I read 1 Corinthians 15:14. Paul writes, "Do everything in love."

Um seriously, Paul? Have you seen my to do list? It's never ending. Yet, I'm supposed to do it all in love, including mopping the kitchen floor?

Then I remember the scripture I saw on a church sign yesterday...

We love because He first loved us. 1 John 4:19

And who is He? Our Heavenly Father

And what was on His to do list?

-Creating the world in six days

-Building a Nation

-Watching that same nation reject him

-Sending His Son to save them

-Then giving His Son as the ultimate sacrifice for all sin.

That was His to do list. It sounds pretty daunting to me. Yet, He did it all in love. And I'm so glad He did. I'm thankful He didn't give up and say, "Oh I don't feel like doing it today. I think I'll just stop here." We would have been left without the grace and mercy of the cross. Then we really would be inadequate.

But because He went all the way, we can.

And we can do it all in love...His love.

So instead of having a pity party today, I am going to get busy. I'm going to surrender my inadequacies to the Lord and ask Him to replace them with His strength.
I'm not going to focus on my Never Ending To Do List, but instead I am going to focus on my family, the family that God gave me to serve and to bless. May I shower them with His love today.

How about you my friends? What are you doing to bless your home today or this week? Why don't you join my friend, Nan @ Momstheword for Making Your Home Sing Monday? It
is always a great time to focus on our homes and our families. Thanks for joining me today!

Take care my sweet friends!

I pray you have a blessed week!

Just keepin' it real,